Happy Friday! I hope everyone had a good week and an even better weekend! Today I have a few things...I just got done making some more
Flourless Banana muffins
again(I seriously can't get enough) but had to tweak it because I am in serious need of a grocery trip and am out of a few things. Changes I made...
1) I am out of vanilla so I had to use 2 tsp of almond extract instead of part vanilla, part almond....verdict? I loved this change! It made the batter smell better :) and it gave a great taste to the baked product.
2) I chose to only do 3 TB of PB, less than the 1/2 cup of dark chocolate chips and add about 2 TB of peanut butter chips....verdict? Yummy :) I loved the bits of PB chips in them!
Next, I want to share a recipe that we made last night. I found the recipe on Pinterest of course and in an effort to add more Pork Tenderloin into our meals I had to try it.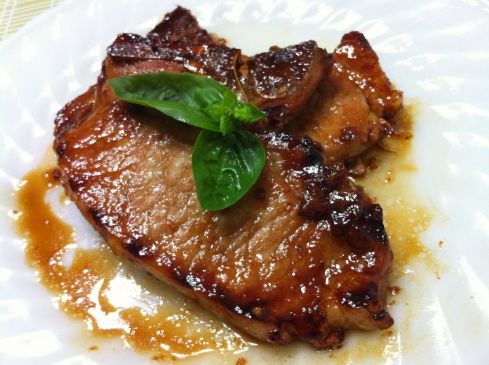 The recipe is Honey Garlic Pork and can be found
here
.
Changes I made......
1) The recipe calls for Pork chops, instead I used 1 1/2 pounds worth of Pork Tenderloin sliced
2) It says to grill, but I put the marinade and porkchops into a casserole dish and baked at 375 for 30 minutes, flipping meat half-way through.
Verdict? The most amazing pork tenderloin I have made in a while. It has an Asian flare due to the soy sauce so you could easily pair it with rice and use the extra sauce to drizzle over it. We served it with baked sweet potatoes, carrots, and green beans and threw in oranges slices for some vitamin c :)
We loved this recipe.....okay, I say "we" as in my husband and I. The 3 year old enjoyed them after being forced to eat(the norm these days) and our youngest threw everything on the floor(even though sweet potatoes are his fav), which has been his norm for
most
foods ever since he began solid foods.....but then, here's the kicker, chose to eat dog food afterwards. Seriously? Dog food instead of an amazingly tasty dinner? This youngest makes me wonder sometimes......
Happy Cooking!